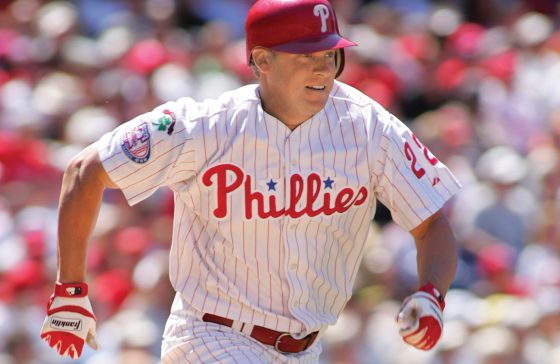 1000+ games played
two 2-HR games
4 total grand slams
6 career pinch hit HR
1 career walk-off HR
Reading Fightin Phils (Phillies AA)  Hall of Fame 2016
University of Miami Sports Hall of Fame 2010
Okalossa-Walton Junior College Hall of Fame 2001
Jesuit High School Hall of Fame in 1999
Jason Michaels is a Tampa, FL native and a 10-year major league veteran with a 15-year career total in professional baseball.  From high school to college and all 4 levels of professional baseball, Michaels succeeded with his unique approach to the game allowing him to have a long career, against the odds.
He is a 1994 graduate of Jesuit High School of Tampa, which also produced major leaguers, Lou Piniella, Dave Magadan and Brad Radke. He hit over .400 in each of his 3 years at Jesuit, which earned him a selection in the 1994 Major League Baseball Draft in the 49th round by the San Diego Padres. Michaels chose not to sign and instead chose to attend junior college at Okaloosa-Walton Community College (now Northwest Florida State College) where he would hit .421 with 9 home runs and 45 RBI earning him the Panhandle Conference Player of the Year in 1996.  He was then selected for a second time in 1996 in the 44th round by his hometown Tampa Bay Devil Rays and again chose not to sign and instead attend the University of Miami. He lettered in baseball for the Hurricanes in 1997 and 1998 and played in the College World Series in both seasons. In two seasons as a Hurricane, Michaels hit .396 (3rd highest in school history) with 34 homeruns (10th) and 154 RBI. In 1997, he set Hurricane single-season records for hits (106), doubles (32) and total bases (189). He was selected for a third time in the 1997 draft by the St. Louis Cardinals in the 15th round but chose to decline again and return to Miami for his final year of eligibility.
After his final season at the University of Miami, Michaels was selected for the fourth time, this time by the Philadelphia Phillies in the 4th round and he signed his first professional contract on June 19, 1998.
Jason would spend a majority of his playing career with the Phillies from 1998-2005, playing for each minor league affiliate, before making his major league debut April 6. 2001. In 424 minor league games in the Phillies farm system, Michaels hit .282 with 52 homeruns and 264 RBI. After his debut in 2001, Michaels cracked the opening day roster in 2002 and would remain on the team through 2005 as an outfielder/pinch hitter, compiling a .291 batting average with 21 homeruns and 100 RBI in 383 games and 808 at bats.
Following the 2005 season, Jason was traded to the Cleveland Indians in January 2006 and would start in left field that season for the Indians, hitting primarily in the second spot in the batting order. He would go on to have one of his best seasons, hitting .267 with 9 homeruns and a career-best 55 RBI, missing 15 games that year after crashing into the outfield wall at old Yankee Stadium in June. Off the field, Michaels had another career accomplishment, being nominated for the prestigious Roberto Clemente Award, given annually to the major league player who best exemplifies a commitment to community service. In 2007, Jason would start in the outfield and was on an Indians team that would end up being one win away from the World Series, losing to the Yankees in the ALCS. Michaels would start 2008 with the Indians before being traded to the Pittsburgh Pirates on May 8, 2008.
Jason would play out the rest of that 2008 season with Pittsburgh as a fourth outfielder/pinch hitter finishing the season with 8 homeruns and 44 RBI in 102 games. It was a short stint with the Pirates but Michaels would still put a stamp on Pirates baseball history. On July 12, 2008, the Pirates would trail 10-4 in the bottom of the 8th against the Cardinals and would eventually tie and then fall behind a run before Michaels came to the plate and launched a game-winning two-run homerun to give the Bucs a 12-11 victory. This walkoff homerun would be voted the #9 best play in Pirates history.
Michaels would start his Astros tenure in the 2009 season, signing a one year deal in December 2008. In three seasons (09-11) in Houston as a fourth outfielder/pinch hitter, Michaels played in 297 games hitting 14 homeruns and collecting 52 RBI with a .231 batting average.
His three seasons in Houston would lead him to the Nation's Capitol to sign his final professional contract, a minor league deal with the Washington Nationals on December 16, 2011. Michaels would retire from playing that season while in AAA Syracuse in 2012. Jason's veteran presence and his ability to relate to the younger players on the team were considered a huge asset to the Nationals organization and while his professional playing career ended in June 2012, Michaels would remain with the team as a player/coach. Following the 2013 season, Michaels impact on the young prospects was felt and the organization asked him to return as a minor league mentor roving coach, helping position players as well as pitchers with their approach and the mental side of their game.
With 10 seasons in the major leagues, Jason complied over 1000 games played with career highlights such as, two 2-HR games, 4 total grand slams (2 as a pinch hitter), 6 career pinch hit HR and 1 career walk-off HR.
Jason was also honored for his amateur career, having been inducted into the University of Miami Sports Hall of Fame as part of its Class of 2010 as well as the Jesuit High School Hall of Fame in 1999 and the Okalossa-Walton Junior College Hall of Fame (now NW Florida State College) in 2001. He was honored for his professional career in July 2016, having been inducted into the Reading Fightin Phils (AA Affiliate, Philadelphia Phillies) Hall of Fame.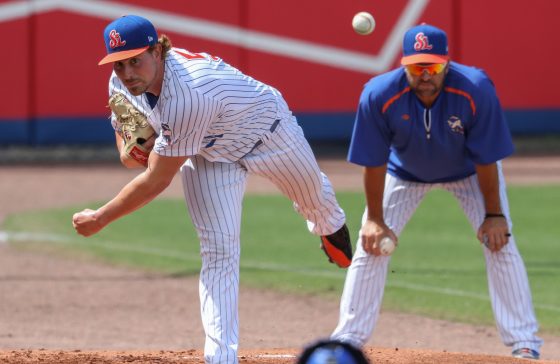 1st Round Draft Pick by the Florida Marlins (1993)
USA Olympic Baseball Team Member (1992)
Most wins for the University of Florida (31)
South Atlantic Pitching Coach of the Year (2010, 2014)
Marc Valdes – Tampa Native – grew up with a love of baseball. He attended Jesuit High School before attending the University of Florida on a full athletic scholarship. Valdes played 6 years of Major League Baseball (Florida Marlins, Montreal Expos, Houston Astros, Atlanta Braves) and 3 years in Japan (Chunichi Dragons, Hanshin Tigers). From 2007-2018, Valdes spent time as a minor league pitching coach for the New York Mets Organization. He's now back to his Tampa roots and working with Jason Michaels (Former MLB player) at the Big League Approach (BLA). BLA provides private hitting, fielding and pitching instruction to baseball and softball players of all ages. BLA not only focuses on the physical aspects of baseball but the ever important mental side which is crucial in developing better all-around players. Valdes has a keen understanding of what it takes to be successful in the sports arena. He is excited for the opportunity to share his baseball and coaching knowledge with the local area.
our approach
The Big League Approach (BLA) is focused on mastering the mental side of baseball. It aims to provide each client with the necessary tools to gain a competitive mental edge for each pitch, each at bat and each game. While it is important for an athlete to be in good physical shape, the mental aspect of the game is something that is often overlooked and one that can truly provide the edge that sets you apart from your competition. Our desire is to provide each client with the motivation to believe, mentally, that they will succeed in each pitch, at bat or game. With every client, developing a customized mental approach prior to hitting, defense, base running or pitching, will aid in ensuring consistent positive results on the field. In addition to on field success, learning to deal with failure in any game situation will also be given its own approach that allows each client to compartmentalize any unsuccessful results and turn them into a learning experience for the next opportunity.
contact form
If you'd like a free consultation with Jason, please start by completing the form: